24 Sep

FJM Foundation Testifies Before National Capital Memorial Advisory Commission on Need for Permanent Memorial to Fallen Journalists

WASHINGTON, D.C. (September 24, 2019) – Representatives from the Fallen Journalists Memorial (FJM) Foundation testified today before the National Capital Memorial Advisory Commission in support of legislation to establish a permanent memorial in the nation's capital for fallen journalists. Barbara Cochran, President of the Foundation, and others offered oral statements in support for the memorial. Additionally, a long list of journalists and journalism organizations submitted written statements of support. The Advisory Commission, following testimony from the FJM Foundation,  tentatively voted on September 24 to positively recommend legislation to establish a Fallen Journalists Memorial on federal land in Washington, D.C.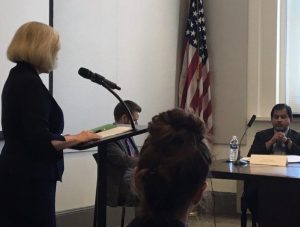 Barbara Cochran, President of the Foundation, gave oral statements in support for the Memorial.
"There are many worthy federal monuments in Washington, D.C., to Americans who have sacrificed their lives while promoting the enduring values of our democracy," Cochran said in her written statement. "But there is no memorial to commemorate those who have died while working to advance what our founders enshrined in the First Amendment – a free and independent press."
Additional statements of support for the memorial were provided by former Washington Post Publisher Donald Graham, former host of Face the Nation Bob Schieffer, and Gerald Seib of the Wall Street Journal. A full list of statements of support can be viewed HERE.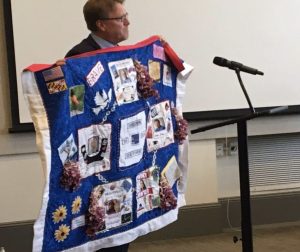 Rick Hudzell displays a quilt made by an Annapolis, Maryland, Girl Scout troop as a memorial to the five Capital Gazette employees killed in June 2018.
The memorial planning process requires passage of the Fallen Journalists Memorial Act, H.R. 3465/S.1969, which would authorize the Fallen Journalists Memorial Foundation (FJM Foundation) to establish a commemorative work on federally owned and administered land in the District of Columbia. No federal funds will be used to build the memorial. The legislation was introduced on June 25, 2019 by Senators Ben Cardin (D-MD) and Rob Portman (R-OH) and Representatives Grace Napolitano (D-CA) and Tom Cole (R-OK) which coincided with the one-year anniversary of the deadliest attack on journalism in modern United States history, when five Capital Gazette employees were killed in their Annapolis, Maryland newsroom on June 28, 2018.
The FJM Foundation operates under the auspices of the National Press Club Journalism Institute (NPCJI), which is the non-profit educational affiliate of the National Press Club. The Foundation is led by former Rep. David Dreier, Chairman of Tribune Publishing. Initial funding for the Foundation was provided by generous contributions from the Annenberg Foundation and the Michael and Jacky Ferro Foundation.
Also testifying in support of the memorial were Amanda Bennett, Director of Voice of America, and Rick Hutzell, Editor of the Capital Gazette.